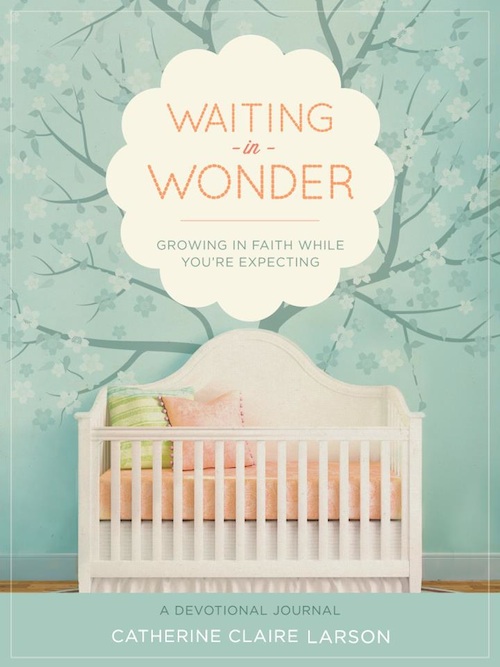 Well, we're less than 2 weeks away from the release date (April 16!) of my new book, Waiting in Wonder: Growing in Faith While You're Expecting and I'm one busy mama trying to keep up with it all.
If you aren't following me on Facebook yet (sign up here), you may not have heard about some of the awesome reviews that are already appearing on Amazon about the book. Check out what people are saying, things like:
This devotional journal is beautifully written for the expectant mother's heart as she awaits the joy of the birth of her child. It has a place to write prayers and messages to the baby after each lesson and has a memory verse for each week for mom to guide her as she walks on this journey of pregnancy. I highly recommend as not just a devotional but as a pregnancy journal too. What a gift this would be to show the child years later when he/she is grown as a beautiful testimony. I cried as I went through this wishing I had this for my pregnancies with my daughter and son. I am recommending this to all my pregnant family and friends as it will speak to each of them as they await the redeeming births of their baby. –Katherine Tolbert
And…
This beautiful devotional journal takes expecting mothers through a most precious journey. While the fun biological aspects are covered and easily understood, more importantly, women are guided through the Bible, prayer, and reflection. I love that it helps prepare women for the changes ahead for themselves, with their husbands, and life as she knows it now. I also enjoyed that the journal questions covered so many aspects including how did you tell people you were pregnant, ironing out personal pride issues, and writing letters to your precious growing baby. I cannot wait to share this gift with family and friends. It will be my go to gift whenever a pregnancy is announced! –Tricia R. Venegas
And for a wonderful, longer review, check out Just34me's Review, "A Firm Foundation." One thing I really appreciated about this review were these final, closing words:
Here, then, is one way to stand for families; to encourage moms to think Christianly about the role of their spiritual lives in the life of their unborn child.  To all those supporting the movement this book is truly pro-life.
Meanwhile, the wheels are in motion for a local book release/ book-signing party. If you live in the greater Washington DC area, please consider joining us as we celebrate "the birth" of this book. This is a community-wide event, with some particularly great door-prizes for expectant moms. Here are the details:
Saturday, April 20th, 10:30 am to 1 pm, PFM Hospitality House, 44180 Riverside Parkway, Lansdowne, VA 20176. All are welcome! Expectant moms who attend are eligible for some great door prizes including a Baby Jogger stroller as well as giveaways from local area toy-store, Go Bananas, Veggie Tale's Creator Phil Visher's What's In the Bible, Thomas Nelson Books and more!
If you'd like to help me, spread the word, share this(PDF) flier with your friends, church family, MOPs group, and neighbors. I'd love to see many new faces: WIW_LaunchParty[1] (1)
And finally, I'll also be signing books on May 4th at the Northern Virginia Natural Birthing Center in Chantilly, Virginia. Looking forward to meeting some wonderful expecting mothers there!
More to come!