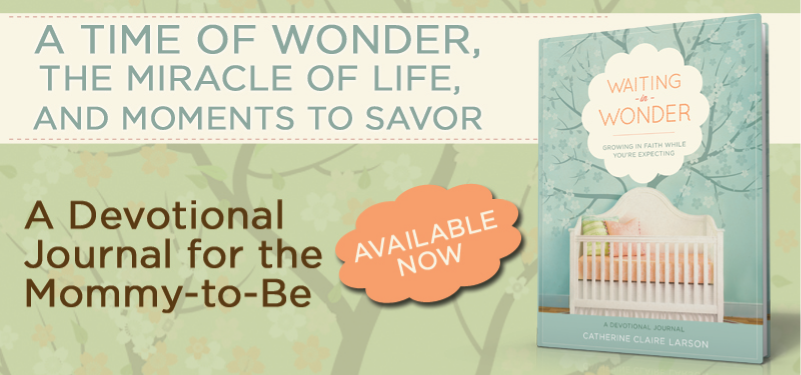 The day is here! Release Day! And I'm so excited to share my new book, Waiting in Wonder: Growing in Faith While You're Expecting with you!
If you're new here and don't yet know what Waiting in Wonder is all about, allow me to introduce you:
A devotional journal inviting women to embrace the spiritual journey that awaits as they prepare for the high and holy calling of motherhood.

Expecting a baby is a time of unfolding wonders—from the jolt of first heartbeat, to the buds of tiny fingers, to the flutter of little kicks. During pregnancy, a mother's body nourishes this quiet miracle's development. But through the trials of morning sickness, the anticipation of labor, and the questions of whether she'll be a good mother, she'll need her own nourishment—both physical as well as spiritual. She'll want to nurture her own heart so that she may one day strengthen the spiritual life of this child entrusted to her.

Waiting in Wonder guides readers through the weeks of pregnancy with devotions designed to encourage, strengthen, and inspire. Each devotion includes Scripture and journaling space for writing personal thoughts, prayers, dreams, even love letters to the growing baby. And when baby is born, mother will hold a lifelong keepsake for rereading and reliving a truly wonder-filled time of physical change and spiritual growth.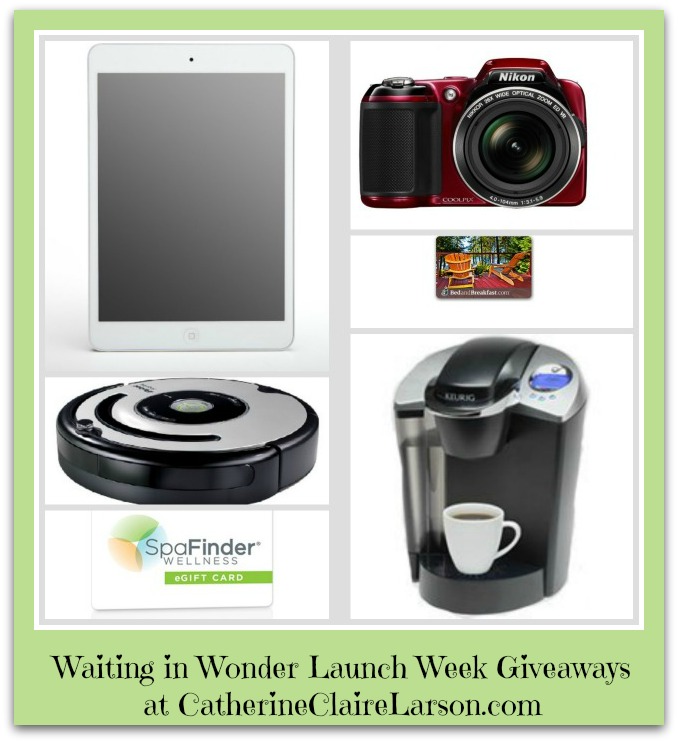 (Prizes pictured above: a 16GB ipad mini, a $200 Spafinder.com gift card, a Nikon Coolpix L810 16.1 MP Digital Camera, iRobot 560 Roomba vacuum, a $300 gift certificate for a getaway through www.bedandbreakfast.com, as well as a Keurig K65 Special Edition Coffee Maker)
To celebrate the book's release, I'm hosting a week of incredible giveaways (including one fun getaway!) Help me spread the word about Waiting in Wonder, get your own copy for yourself or stock up on several for gifts, AND have a chance to win some fantastic prizes.
From April 17 to April 24, each weekday there will be a raffle for a new giveaway. I'll be kicking things off with the ipad mini giveaway Wednesday, April 17. And the opportunity to enter will end on April 25th at midnight. Winners will be announced in a blog post on Monday, April 29th. (Click to tweet!)
In addition to these awesome opportunities to win, each day I'll post a new excerpt from my devotional to share with another mom who could use some encouragement. I hope you'll tweet, pin, post, share, and email your friends with these, so that by the end of these days, moms far and wide will feel showered with love and encouragement. I also hope you'll have a glimpse of just how deeply Waiting in Wonder could minister to you or a mom you know during this sacred season of waiting. Whether or not you're expecting, I hope these devotions will encourage you to draw closer to Jesus and praise Him for His fearfully and wonderfully-made creations.
Oh, and if you're not yet subscribed to this blog, what are you waiting for? You don't want to miss a single day of what's in store.