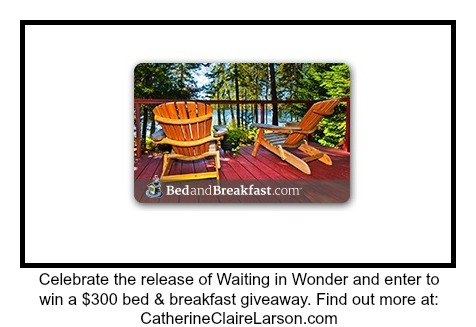 One of the themes I tried to hit frequently in Waiting in Wonder is strengthening one's marriage.  While I realize that not everyone who reads the book will be married, I do believe that a healthy God-centered marriage is the best place for a little one to thrive. Yet, in the midst of buying baby gear, baby-proofing the home, painting the nursery, picking out the perfect name, attending birth classes, and figuring out how to correctly install a car-seat, I wonder how many couples truly take time to strengthen their marriages as they await the arrival of their little one. After all, while baby likely won't remember the color of his or her nursery or whether the stroller collapsed with a quick push of a button, that child will remember the health of his or her parents' marriage for life. It will impact not only how that child sees God, but also that child's view of how a man and woman should relate.
This entry from the second trimester is but one of many entries in the book that focuses on marriage. Take a look:
And tying right into today's entry is your chance to win a $300 bedandbreakfast.com gift card to make that getaway a little easier to make happen. So show your spouse your love and enter today's giveaway. (And if you're single, think about entering to win the giveaway and use this gift certificate as a way of taking a personal spiritual retreat.)
Finally, we're getting close to the end of these giveaways. Haven't they been amazing? Time runs out at midnight on April 25th. If you haven't yet entered to win the iPad mini, the $200 Spafinder gift card, the Nikon Coolpix L810 camera, or the iRobot 560 Roomba vacuum, enter today and please help me spread the word about Waiting in Wonder. (Winners will be announced on this blog on Monday, April 29th.)
And if you still haven't ordered a copy of Waiting in Wonder for yourself or as a gift, get a few copies today.
Want Live Expectantly delivered straight to your inbox? Why not subscribe?