My new book, Waiting in Wonder: Growing in Faith While You're Expecting is finally on shelves in a bookstore near you and I couldn't be more thrilled.  This week, I want to help you get to know the heart behind the book and give you a glimpse inside. I hope you'll love what you see and buy a copy or 2 or 3! I also need your help to spread the message so that expectant mamas all over have a chance to hear about this book, and (this is my prayer) draw closer to God, their husband, and their baby through it.
If you aren't expecting I hope you'll take a few minutes to get acquainted with the book because I truly believe this is going to be a book that you find yourself giving again and again. It's the perfect gift book for an expectant mama!
If you are expecting, congratulations! I'm so excited you've found this place. Here's a bit of what I wrote in the introduction of the book, just for you:
Whether you're a first-time mom or a seasoned veteran of motherhood, God graciously gives each mother nine months. Nine months to prepare for a sacred journey—a journey you will be taking with this particular child, to nurture, to disciple, and to teach about Jesus.

Nine months isn't very long to prepare for such a journey. But God knows you will never truly be ready for the rigorous demands of motherhood. If you were, you would have no need to lean on Him in dependence, no need to keep your own eyes on Jesus, your Guide. Though you will never be completely ready for motherhood, God longs to help you—He longs for you to make the most of this waiting time by drawing nearer to Him. …

The God who made you and the One who is forming this child within you longs to walk with you during this sacred season of waiting. He wants to share in what you're feeling. He wants to open up truths from His Word that will comfort you and challenge you to become even more of the woman—and the mother—He designed you to be. And He wants to awaken you to the wonder of this miraculous creation He is even now forming within you.

It's my sincere hope that through this journal your pregnancy can be a time of adopting certain practices that will shape your life and the life of your child forever: meditating on Scripture as a means to personal metamorphosis, foregoing anxiety in favor of prayer, and journaling as a tool for remembering God's faithfulness. I pray that as these devotions lead you to linger over the details of God's amazing handiwork in creation, you will also find your sense of wonder renewed and, with it, your heart revived to praise.

To that end, in the pages of this beautiful devotional journal, Waiting in Wonder, you will find daily readings and Scripture passages brought together just for you and for this special season of your life. You will also find helpful prompts that lead you to record your emotions, significant milestones, prayers, and love notes to your baby. What a precious gift to be able to give to your son or daughter one day—the gift of knowing you and the love you had for him or her even before you nuzzled his or her life in your arms.
And that's my heart–right there–for you or some mom you know who will receive this book as a gift. Let me also give you a glimpse today into a sample entry. This one comes from Week 8, and talks about the rapid growth of baby's brain. That's the lead-in to a meditation on the Infinite Wisdom of God who created not only this marvelous being, but everything else that we see and know. Take a peek:
I hope that gives you a glimpse of what you'll find inside this book.
And now for today's giveaway. I chose today's prize with expectant mamas in mind (though you don't have to be expecting or even female to enter or win!) I don't actually own an iPad of any kind, but in the days nursing a newborn I often found myself wanting to be able to hold and look at a book–especially my Bible–with just one hand. As my boys are getting bigger, I've seen how much they enjoy playing educational games with Daddy on his computer. I understand you can do both with this one small device. This seemed like a great gift that you will use, but can also grow with your family. So without further ado, I give you the chance to win an Apple iPad mini 16 GB (White), estimated value, $357.10. As you'll see there's lots of ways for you to earn chances to win, including bonus entries for referring your friends. So enter here, and tweet, text, email, and share away with friends to encourage them to do the same! (You'll find all the terms and conditions listed in the rafflecopter widget below where you enter, along with the dates April 17-25, and the date winners will be announced on this blog: April 29th.)
We've got a lot more great prizes coming at you this week and next: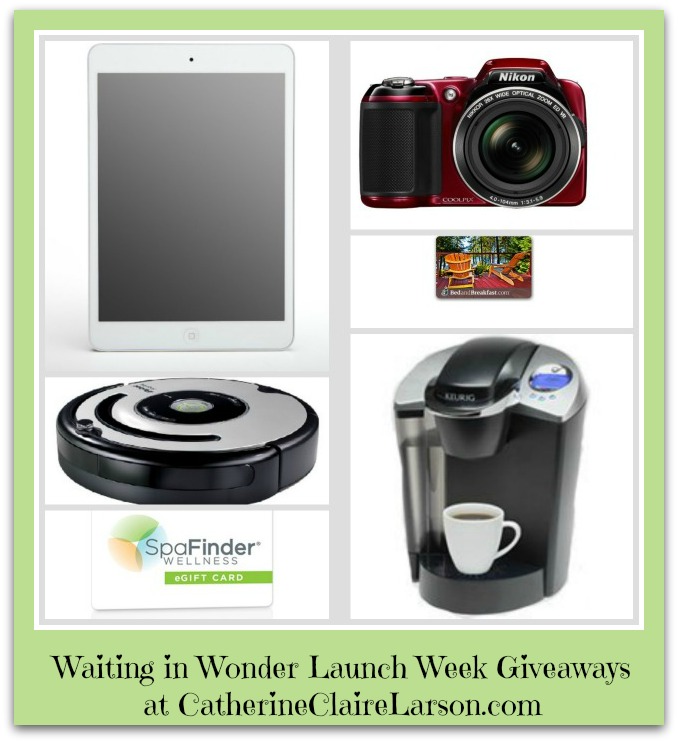 Don't forget to check back in tomorrow (or better yet subscribe so you don't have to remember!) for our next excerpt and giveaway! Up next, a $200 spafinder gift card! Now doesn't that sound divine!