Counting Down to Christmas: Joy & Jesus Entwined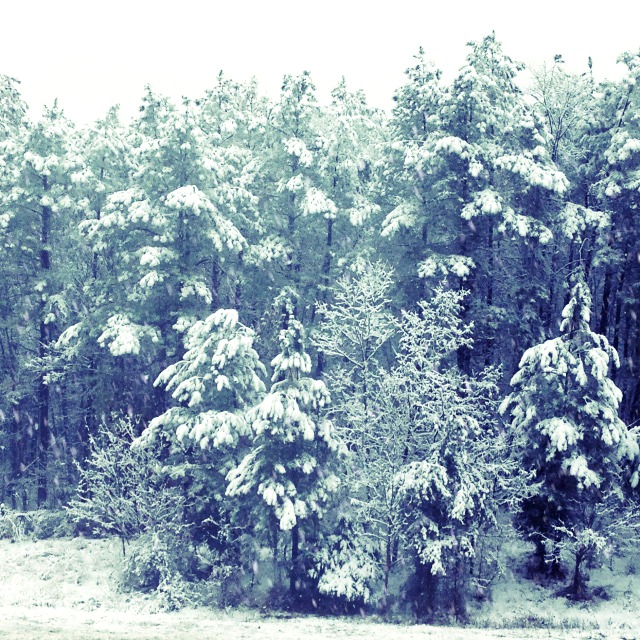 My three year-old sits in the tub sporting a Santa beard made of bubbles. He's alternately slurping hottish cocoa from a sippy cup and slathering his almost 2 year old brother with foam from their peppermint-scented bubble bath. They are a slippery, giggly mess as I get them out of the tub, the toddler darting naked, trailing frothy bubbles in his wake. Once pajama-clad and snuggling in next to me, we read the old, old story of a humble birth in a stable and I breathe in the sweet smell of their pepperminty hair. I hope the smell of candy-canes will remind me of these moments when I'm old and gray. And I hope it will remind them of joy, and Jesus, and laughter when their faces are no longer boyishly smooth.
We've been making memories at our house this Christmas season, ones which I hope will entwine the joy of Jesus with the joys of the season, of home, and of laughter. A few years ago, when all I had was one in diapers, I bought a huge advent calendar with pockets to hang on the wall at Christmastime. At that time I had no idea what I'd do with those pockets. Candy, perhaps? I'd figure it out when I got there.
When I got there—er here, two more kids in diapers later—daily sugar for my already energetic boys didn't seem like such a bright idea. I'd fill the pockets with something else. But what? Finally, I landed on the idea of counting down the days with a Christmas bucket list of sorts. Meanwhile, I stumbled on a Bible-reading plan that would take us through their Jesus Storybook Bible each night as we count the days to Christmas. One of the themes of this children's Bible is that every story whispers His name. And so we point to Jesus each night as we read these stories and hang our hand-made ornaments, representing each Bible story, on the tree. After our Bible reading is over, the oldest picks a note from the pocket of our calendar that reveals what's on our Christmas countdown list for that night.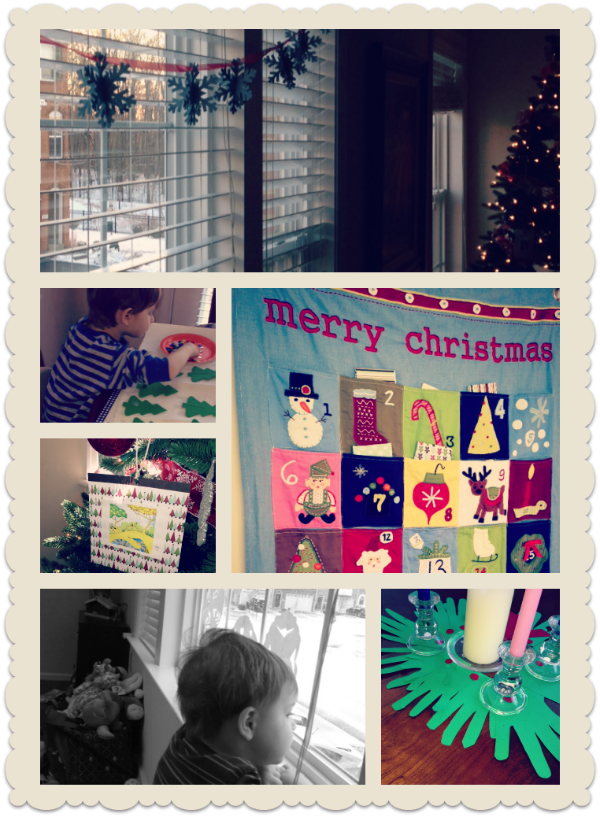 The whole routine is met with daily expectation and glee. From the time they get up, my oldest is asking when it will be time to "do Advent." I love it and so do they. And here's the thing: Jesus and joy go hand in hand each day as we count the days to Christmas. And this is how it should be. Joy to the world, the Lord is come! Jesu, Joy of Man's Desiring. The season's songs remind us of this truth. Jesus' birth is the birth of true Joy. It is the Hallelujah moment the world had been waiting to sing. And as I cultivate traditions of Christmas celebration in our house, I want these two words—Jesus and joy—to always be entwined. I want Jesus and Joy to be the centerpiece of our celebration.
The world will always whisper lies-that joy is found elsewhere. It whispers it to you and to me. One day it will whisper this lie to my boys. When and if they taste of the world's pleasures and find them empty, I want them to remember a time and a place where fun was found in personal relationships that had meaning, where you didn't have to numb yourself to feel good, where a few simple laughs were enough to fill you. I want them to remember a place where they felt like themselves and that that place was filled with Jesus. I want them to remember those stories that whispered the name of Jesus, that name that Joseph named his baby boy when joy invaded the earth.
~*~
Here's a link to the Jesus Storybook Bible and the reading plan and ornaments we've been using. And here's a little peak at our personal Christmas bucket list. Enjoy the season and no matter the Christmas traditions you cultivate, make the joy of Jesus the centerpiece of your home.
1. Make an advent wreath for the table.
2. Make Christmas cards to send to the cousins.
3. Make Snowflakes to hang on the window.
4. Have French toast and hot chocolate for dinner.
5. Turn Christmas music up loud and have a dance party.
6. Read about the real St. Nicholas and have St. Nick's b-day celebration. Practice secret acts of service.
7. Go see a live Nativity.
8. Make a Bethlehem star to hang in the kids' room.
9. Have a game night.
10. Take a peppermint bubble-bath.
11. Make a snow globe.
12. Pick out a gift together from World Vision catalog for a needy family in the Third World.
13. Pop popcorn and watch a Christmas movie.
14. Go with parent to pick out a gift for other parent and siblings.
15. Drink eggnog.
16. Call relatives and sing Christmas carols.
17. Spend the day doing Random Acts of Kindness.
18. Act out the nativity story.
19. Read Christmas stories under the Christmas tree.
20. Make Christmas cookies.
21. Have dinner by candlelight on the shortest night of the year.
22. Make popcorn strands for the tree.
23. Drive around to see Christmas lights.
24. Attend the Christmas Eve candle-light service at church.
25. Sing Happy Birthday Jesus and read the Christmas story.
Did you enjoy this post? Consider subscribing to get every post delivered straight to your inbox.