Mothers: God's treasurers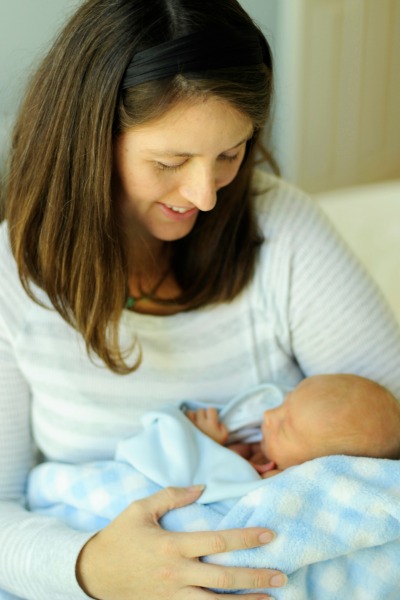 But Mary treasured up all these things and pondered them in her heart. Luke 2:19 (NIV)
Every mother has been given a precious and astonishing gift: the gift of a child. Truly, I believe every human life is a miracle. And what does the Gift-giver hope that we will do with a gift given? Perhaps, the simplest answer to such a complex question is just this: treasure the gift. Deeply value, deeply enjoy, and deeply cherish that gift.
Jesus' mother Mary gives us a beautiful example of this. After the details of the angelic announcements of his coming birth and the history of the details surrounding his birth, we are given these words: "But Mary treasured up all these things and pondered them in her heart" (Luke 2:19, NIV). Certainly, Mary is treasuring the events surrounding his birth: the words spoken over him, the deep significance of events, the unfolding of God's providence in every detail of his arrival. But to say that she treasured these things and pondered them is also to say that she treasured him and pondered him. She valued him. She ooohed and aaaahed over him, delighted in him, was his first and most devoted admirer. The perfect gift ever given was first treasured by a mother. What an honor! What an example she is to us all.
And twice in Jesus' childhood, we read something like the verse above. The second time is a book-end to the first. It comes at the end of the tidbits of description we have of Jesus' childhood: his presentation at the temple at 8 days old and the response of Simeon and Anna, and later, of his return to the temple at age 12. And Luke records, "Then he went down to Nazareth with them and was obedient to them. But his mother treasured all these things in her heart" (Luke 2:51). Jesus' birth and growth as a child has two book-ends around it, and they are his mother's treasuring.
You and I have not been given perfect children, nor will we be perfect mothers, but Mary sets a beautiful example for how to respond to the gift of a child: we treasure, we ponder, and we cherish. And guess what grows in the context of that love? Jesus flourishes. He grows in a completely holistic way—mentally, spiritually, physically, socially, and emotionally. We have this one verse of summary: "And Jesus grew in wisdom and stature, and in favor with God and man" (Luke 2:52). Treasuring a child prepares this kind of rich soil. It tills the ground for the flowering of holistic growth. How amazing that we as mothers have been given the opportunity to be the first to delight and treasure the gift of a human soul. What a privilege it is to honor God, our gift-giver, by delighting in the gift of a child.
Ironically, as I wrote this today, my three-year old came up and wanted to sit in my lap. I put my computer down and invited him up. I stroked his head. I whispered, "Do you know you are so deeply loved?" I cuddled with him and admired his recently built creation. I said a silent prayer of thanksgiving for the gift of this child and for the privilege to be his first audience of delight.
Don't ever let anyone let you feel ashamed for delighting in and treasuring your child. You take a lot of pictures of him or her? You bet: God made you that child's treasurer. You love that dimpled chin and the curl of that cowlick? Yeah, you do: God made you to delight in this little one. We are not to idolize our children or gloss over their faults. But we were made to treasure them and in so doing create the environment for them to flourish. So yes, snap another picture, fill another baby-book page, publicly share your joy in who God made them to be. It's your privilege: you are a treasurer.

Like what you are reading? Share it with someone who could use the encouragement. Perhaps you know someone who would be blessed by a book I wrote to help mothers grow in their faith as they await the birth of a baby. It is called Waiting in Wonder: Growing in Faith While You are Expecting and it is a place for mothers to treasure God and the gift of the little one God has given them. It makes a great gift for an expectant mom!