The Valentine's Box: A Reminder That You Are So Deeply Loved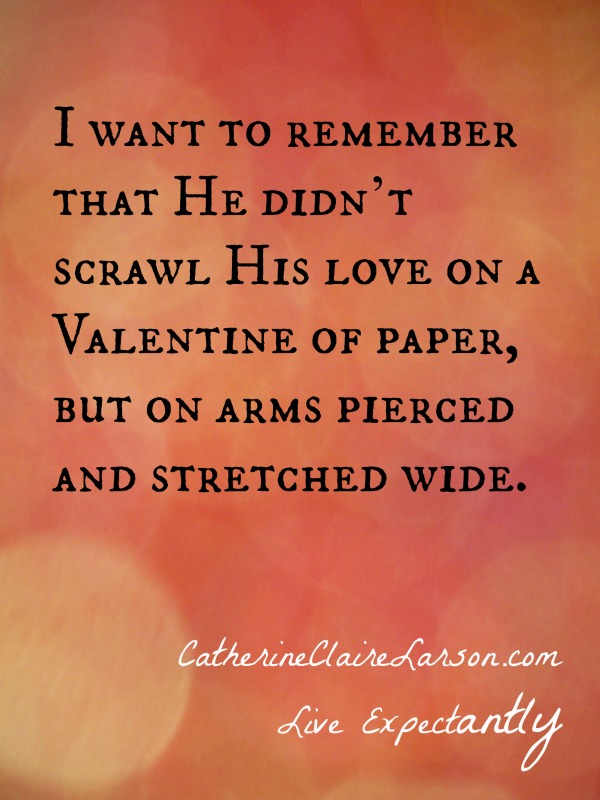 I'm ashamed to admit it but by the age of ten my heart was already aflutter with the thought of boys. My crushes that year had flitted from here to there like a butterfly. And my best friend (Elaina, are you reading?) and I held many a late-night pajama-clad conversation over the cutest or the funniest or the sweetest boy of the fifth grade class. So when it came to Valentine's Day, my heart was full of hope that amidst those silly Snoopy and Transformer's Valentines and the chalky candy hearts that there might be one that had a real message, a declaration of profound "like" for me, even me.
Deep down I knew I wasn't even close to the prettiest girl in class. My brown hair cut in a bob with bangs that curled around my too baby-like face. (I was still a baby after all). How glad I was that those same brown locks covered my rowdy ears and that my dimples somewhat distracted from my teeth that begged for braces (thank you Mom and Dad).
And so the stage is now set: a tender heart full of hope, an awkward girl poised on the brink of all the changes that would catapult her from a girl to woman, and a class of utterly clueless boys (and rightfully so—ah were we young).
Now enter stage right: my mom.
I opened my eyes that Valentine's morning to something that totally surprised and delighted me. My mom had wrapped the lid and the bottom of a shoe box in bright red wrapping paper. Then she had carefully cut out the most exquisite array of delicate white hearts and arranged and pasted them all over the outside. Finally, she'd cut a slit on the top for a "mail opening." It might not sound extraordinary, but I'd never seen anything like it before and to me, it was the most beautiful, thoughtful gift I could imagine. My heart swelled with pride at the thought of carrying it into class. I loved that box from the moment I laid eyes on it and saved it long after Valentine's Day had come and gone.
Once I got to school, the details of my memory grow fuzzy. I vaguely remember my disgust at receiving a "Garbage Pail Kid" Valentine (anyone remember those?) from someone who I had my eye on at the time. Other than that, all I can remember is the feeling of disappointment and however vaguely of not being chosen. Whatever message of favor I'd hoped to receive that day didn't make it to my mailbox. But while, I left disappointed with the contents of my box, I still held my chin high. After all, I had the loveliest Valentine's box of the fifth grade class.
As I think back on that now, I realize how much that mattered. I was so full of my mother's love (and my father's too—I could tell you about the Daddy-daughter Valentine's dance he took me to or the place of welcome I always had in his arms) that I didn't feel the full sting of that "empty" box. I was loved; so well-loved that my mom knew my tender heart and stayed up late decorating a pretty little box for me, delighting in surprising her little girl.
Now just a few years into motherhood, I'm seeing what a big part of the job description this is: filling our kids with our love so that the stings of this world don't have the full venom. I'm not talking about stuffing them with candy or toys or over-the-top praise. The box was special because my mom had paid enough attention to the stage of life I was in, to know how to fill me up. It was special because it had cost her of her time. It was special because she'd created something of beauty because her love for me was (and is) something of beauty.
And as I think of that beautiful Valentine's box and the love I was filled with that day before I ever walked through the school doors, and I think about how great the Father's love that He lavishes upon us (1 Jn. 3:1). I know my parents' deep love for me; I know the love of an amazing husband; I know the ache of tenderness my own heart swells with for my husband and two sweet boys—but these are but droplets compared to how our Father in Heaven gushes with love for us. He delights over us with singing (Zeph. 3:17). He cannot bear the thought of giving us up (Hos. 11:8-11). And He showed the extent of His love for us in the most costly, extravagant gift anyone could ever give (1 Jn. 3:16).
He pours out His love for us. It is a never-ending spring (John 4:14), a waterfall, a flood (Isaiah 66:12-13). If we allow Him to fill us, how can we ever truly feel empty? It's my job to open my eyes this morning and see the gifts of His Son, of salvation, of presence—with the pure delight of that ten-year old heart. By His grace, I want to wrap my mind and heart around the depth of His love for me so that no matter what comes my way, I walk with the confidence of a girl who is deeply loved, of a girl who has received that special message of favor from the One who matters most. I want to remember that He didn't scrawl His love on a Valentine of paper, but on arms pierced and stretched wide. My name is graven on His hands (Isaiah 49:16). Let His love be always graven on my heart.
Dear Reader, do you walk with confidence as one well-loved? Have you spent time lately filling yourself with the knowledge of His deep love for you? Let it soak in.