It Matters Deeply: The Heartbeat of a Home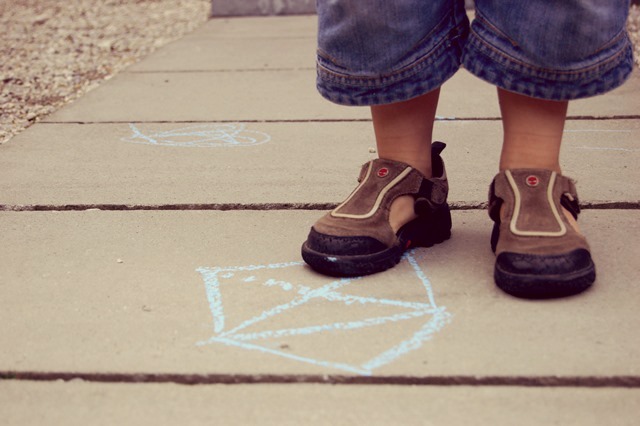 Think warm. Think Spring. Think St. Louis. A child is at home with her mother listening to the radio as they go about their kitchen chores. The radio is playing some Gospel music and both mother and daughter are singing along, cozy and deeply happy.
As the music swells: "Mother started whirling and dancing gaily as we both sang about the greatest love in all of life—our sweet Lord Jesus. This love sparkled and was enjoyable and gave gladness. I laughed as I joined in the dancing with a joy that can still bubble up. I'll always remember this lovely young mother, the atmosphere of the home I grew up in, and that special scene," writes Susan Schaeffer Macaulay of her mother, Edith Schaeffer, in her book For the Family's Sake.
I've been thinking a lot lately about this image and about home. And by home I don't mean the physical four walls and roof. Rather, I'm writing about the atmosphere that creates the feeling of home: the people who create "home" for others and the spirit which they create with words, actions, and attitudes. I've been mulling this because I think more than anything this is the life-shaping influence our children or those who enter our homes will remember.
More than anything I want my boys to remember one day a mama who was so in love with Jesus that they could see it on her face, that they could hear it in her voice, and could sometimes even feel it in their bones as she whirled them up in her arms and danced around the kitchen with them. I know that each moment will not be such a spiritual mountaintop experience, but I want my boys to remember a mama who more often than not sang with the love of Jesus on her lips, who laughed with a heart full of joy, and could be in the moment because she could trust her cares to her Creator.
These kinds of memories of home have nothing to do with how well the home is decorated, with the kind of furniture or home one can afford, or whether or not a parent stays home or works full time. They depend on the kind of relationship a mom or dad has with the Lord Jesus Christ, and with one another.
I have lovely memories of my own home growing up. I remember the feeling of being picked up and carried to bed as a little girl by my dad's big strong arms. I remember my mom comforting me with Scripture when a midnight storm had made me afraid. I remember my dad's bible open on the kitchen table, and the reverberations of my mom's upright piano as she played a favorite hymn. I remember games, and laughter, and good-hearted teasing, affectionate parents, and a spirit of hospitality. I remember earnest prayers prayed and answered, and a habitual desiring that others might know Jesus and know His comfort through our family. And I remember most of all being deeply loved and cared for in every imaginable way. As Susan Schaeffer McCauley writes:
"There is so much more that I could tell, for I was taught Bible stories clearly, even in those years when I was six years old or under. So I knew this Lord Jesus by word, by song, by hugs and comfort, by forgiveness and faithfulness and meals all together, blessed with prayer.

A childhood home like this is a very great and godly gift. Such a legacy does not come from perfect parents, thank God. In fact perfect parents could not prepare us for a life that is to be full of our own and other people's failings. My parents were always open about the fact that they weren't all that good. Anyway, all children see parents as they are!

How could anyone dare to suggest or say that working at the huge task of making a home and carrying on through years and years of ups and downs is not one of the very few truly worthwhile ways to spend our energies and gifts in human life?"
We create the atmosphere of our homes. And we are largely unconscious of how we make it. But it begins and ends with our own relationship with Jesus. Is it living and vital, not a last year's faith, but a faith of today, of this right-now moment? If we are unhappy because we have not known what it is to be filled deep down in our souls by the One whose love means more to us than our bank balance, our self-image, or our failures, then our children and those who enter our homes will feel it. But if the hard things—and heaven help us, they are many—are all tempered by the sweetness of the peace we have in our Savior, then those who come within our walls will not remember the circumstance, but rather our peace and our joy in the face of the circumstance.
What a great privilege and duty it is to help set the tone of our homes! How important it is that I find my joy in that which truly satisfies so I can pass that joy to the others who enter my home. I can do my children no greater service than to think deeply and act boldly to create the aspects so vital to developing a rich home atmosphere. How will I work to create an atmosphere where each person matters immensely, where compassion is a muscle exercised often, where books, and music, and art are laid before my children regularly like a feast, where vastly diverse people are routinely welcomed and served within our walls, where conversations rise above the frivolous, where laughter leaves us wrinkled in all the right places, and where Jesus is enjoyed and exalted in manifold ways throughout our days and years.
Would you think about this with me? It matters deeply.
Homes matter. And creating a life-giving home is a calling that every adult, single, married, widowed, with children or without, has. Because homes are not only our refuge but our outposts of ministry, we should give thought to the atmosphere we create within them. We should pray that the Lord would make them alive with His work within them.
Want to keep digging deeper and living bolder? Keep exploring with me here at Live Expectantly. I expect God to keep showing up in our lives and in our homes and to keep hearing from Him if we have the ears to hear. Stick around. Let's see what He wants to tell us. And if you haven't become a fan on Facebook or signed up to receive these posts in your inbox, would you take a minute to do so? Now that you've followed this crumb-trail of words here, I'd hate for us to lose each other.